Welcome!  We are happy you stopped by.
Today we are sharing another ice cream card using an image from Graciellie Design's latest "Coffee & Ice Cream" digital set.  We really had fun coloring this cone of deliciousness and practiced adding shading and texture with our colored pencils.
Focal Point:
The triple-scoop ice cream cone image was resized and printed onto Accent Opaque 80lb white cardstock.
The image was colored with alcohol markers to represent mint chocolate-chip, strawberry and chocolate ice cream scoops.
Colored pencils were used to add depth and shadows to the cone and ice cream.
The image was fussy-cut
The sentiment was resized and printed onto 80lb kraft cardstock.
Background Panel:
A card panel using kraft 80lb cardstock was cut to a size of 4 ¾" x 6". The Pierced Plaid Cover die was used to add texture to this panel.
Using the Hemstitched Rectangle dies, a frame was cut from beige 65lb cardstock that measured 4 1/8" x 5 3/8".
Using a medium brown 80lb cardstock, the texture diecut was created using the "Texture 2" die from The Paper Rose.
Card Assembly:
The texture diecut was cut into three pieces and adhered randomly to the kraft card panel, slightly hanging off the edges.
The beige Hemstitched frame was adhered to the center of the card panel on top of the texture diecuts.
A fishtail banner die was used to cut out the sentiment which was adhered to the panel.
The ice cream cone was adhered using foam tape to give dimension.
The kraft card panel was adhered to a medium brown 80lb side-folding card base that measures 5-1/8" x 6-1/4".
This card was simple and fun to make.  As always, we are grateful that you stopped by.  Stay safe (and cool)!
Maureen & Michele
"Wherever there is a human in need, there is an opportunity for kindness and to make a difference."
Kevin Heath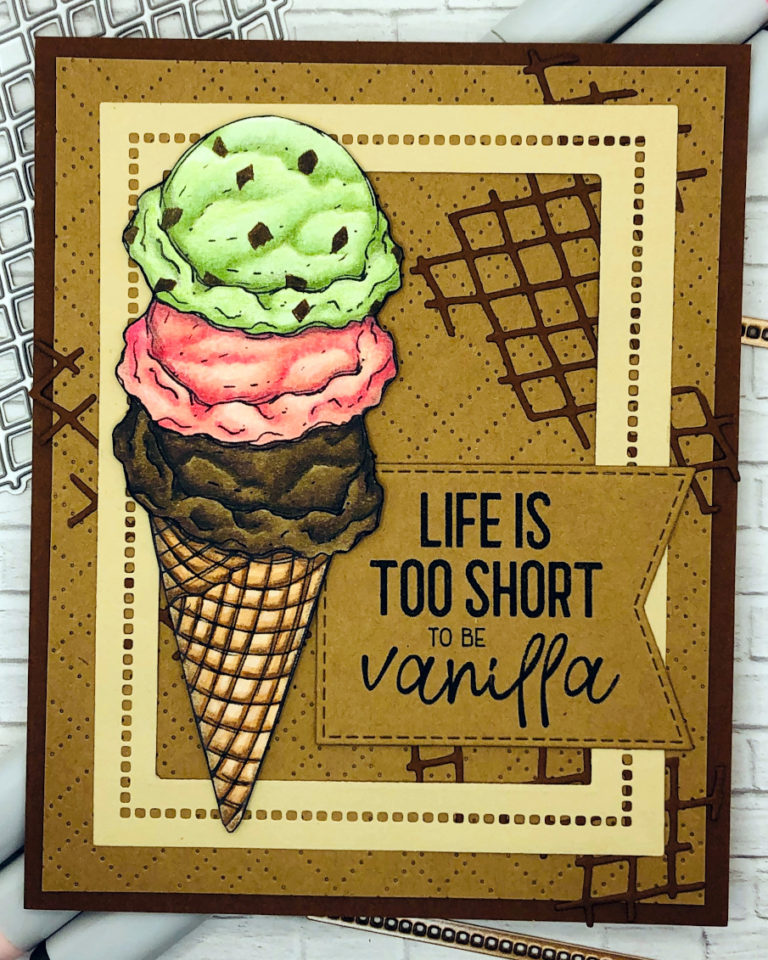 Supply List:
Ice cream cone & Sentiment: Graciellie Design – "Coffee & Ice Cream"
Fishtail Banner Die: My Favorite Things – "Jumbo Fishtail Banner"
Pierced Cover Die: The Stamp Market – "Pierced Plaid Cover Die"
Texture Diecut: The Paper Rose – "Texture 2"
Stitched Rectangle Frame: Spellbinders – "Hemstitch Rectangle"
Alcohol Markers: Copic Sketch

Cone: E33, E37
Chocolate Ice Cream: E44, E79, E89
Strawberry Ice Cream: R32, R30, RV14
Mint Chocolate-chip Ice Cream: G40, G43

Colored Pencils: Southsun Oil Pencils
Kraft, Brown and Beige Cardstock: Source unknown
White Cardstock for Image:  Accent Opaque 80 lb. white cardstock