Welcome!  We are grateful that you stopped by and hope you are well and staying safe.  It was another beautiful autumn day here in Western New York so we thought it would be fun to play with the Pumpkin Patch stamp and die set from Honey Bee Stamps.  Our post today is all about having fun with die cuts and while this was not a fast card to put together, it was most definitely enjoyable to create.    
Focal Point:
The pumpkins, leaves and acorns were all stamped using a copic-friendly ink onto Accent Opaque white 80lb cardstock. We colored the images using alcohol markers (complete list of colors used are in the supply list below) and then we cut them out using the coordinating dies.  However after we cut them out, we decided that we didn't want the white halo around each image so we fussy cut each one up to the black outline.
Colored pencils were used to add more shading and depth to the pumpkin diecuts
The chicken-wire frame (it is actually called "Wood Grain Framed Diamond Wire Die" from Kat Scrappiness) was cut once using brown cardstock and once using a matte silver cardstock. The inside was cut away from the brown diecut so that just the outer wood frame remained. This was then glued to the outer frame of the silver diecut giving a two-toned result (brown wood frame with a silver wire inside).
Using scraps of tan and brown cardstock, we used the Pine Needle Sprig dies from Gina Marie Designs to cut several branches.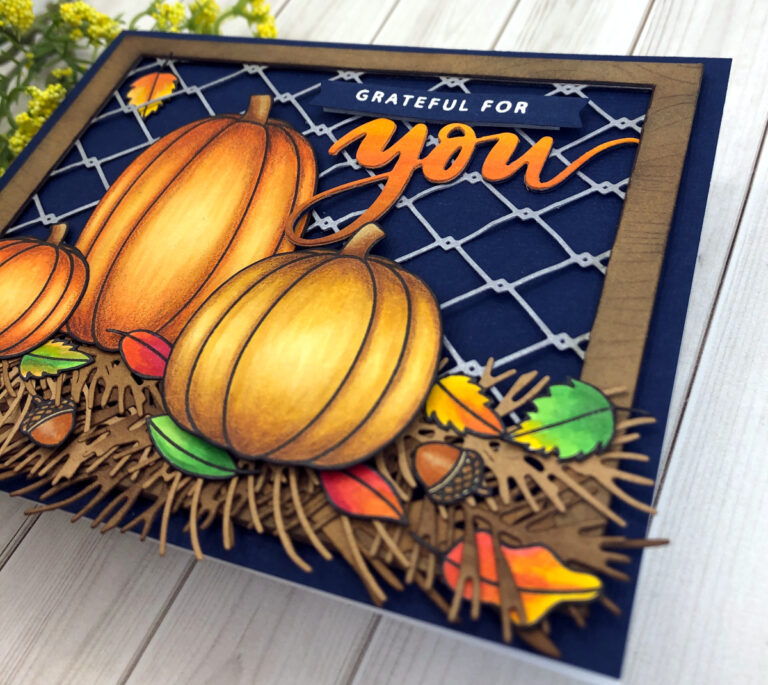 Sentiment:
Copic markers were used to color a scrap of Accent Opaque white 80lb cardstock with an ombre affect. The word 'You' was cut out from this colored scrap.  The word 'You' was cut three more times from the same dark blue cardstock used for the card panel.  All four words were stacked and glued together to create a thicker word diecut.
The "Grateful For" sub-sentiment was stamped onto the same dark blue cardstock with Versamark ink and heat embossed using white embossing powder.
Background Panel:
The pine needle sprigs were layered on the bottom of the frame diecut so they overlapped and were then glued in place.
The large and medium pumpkins were adhered to the wire-frame diecut using foam tape to give added dimension. The smallest pumpkin was glued in place using liquid glue.
The colored leaves and acorns were glued in place with liquid glue.
The word 'You' sentiment was adhered to the wire-frame diecut with liquid glue. 
The sub-sentiment strip was adhered using foam tape.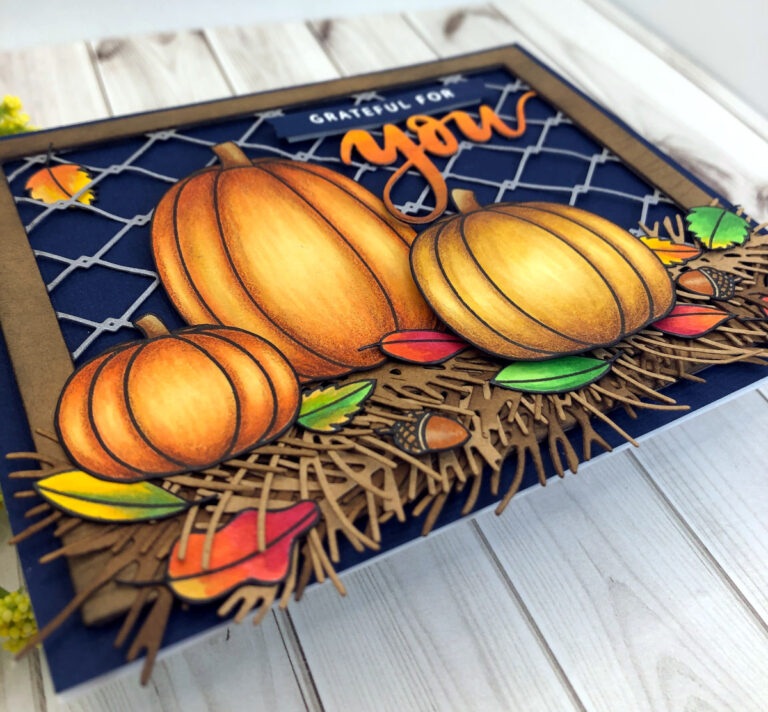 Card Assembly:
A piece of dark blue cardstock was cut to 4.5" x 5.75".
Foam tape was added to the back of wire-framed diecut and adhered to the dark blue card panel.
The completed background panel was adhered to a top-folding, white card base measuring 4.5" x 5.75".
Thanks again for stopping by.  Please stay safe and have a great week!
Maureen and Michele
"Our days are happier when we give people a piece of our heart rather than a piece of our mind."
Unknown
Supply List:
Pumpkins, leaves and acorn stamps and dies: Honey Bee Stamps – "Pumpkin Patch"
Chicken Wire Frame Die: Kat Scrappiness – "Wood Grain Framed Diamond Wire Die"
Pine needle dies: Gina Marie Designs – "Pine Needle Sprig"
'You' word die: My Favorite Things – "Thank You"
"Grateful For" subsentiment: Gina K Designs – "Love & Kindkess"
Fishtail Sentiment Strip Die: My Favorite Things – "Blueprints #27"
Alcohol markers: Copic Sketch Markers

Large and small Pumpkins – Y23, YR14, YR68, RY18
Medium Pumpkin – Y21, YR23, YR24, E99
Leaves – G07, YG09, YG07, Y19, YR2, YR09, YR18, R17, R29
Acorns – E55, E99, E35
'You' Word: YR14, YR18, YR27, E99

Colored pencils: Southsun Oil Pencils
Black Hybrid Ink: My Favorite Things – "Extreme Black"
White cardstock (stamped images and 'You' word die): Accent Opaque – 80 lb.
White cardstock (card base): Accent Opaque – 120 lb
White embossing powder: Brutus Monroe – "Alabaster White"
Embossing Ink: Versamark
Liquid Glue: Art Glitter Glue
Dark Blue Card panel: Unknown
Brown and tan cardstock used for the pine needles and frame – Unknown
Silver cardstock used for chicken wire frame die – Unknown
Foam tape:  From our stash – Unknown